By: Tonya Harriman-Fowler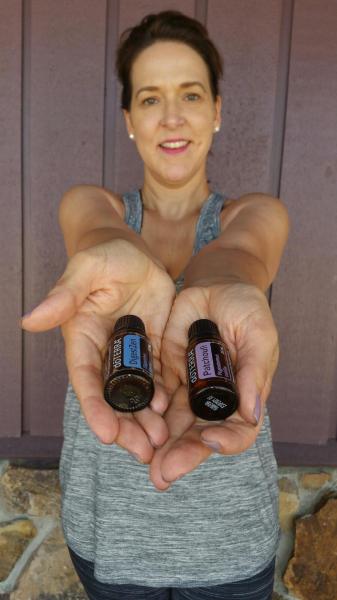 Most people think of essential oils as "liquid potpourri." While they do smell delicious, their therapeutic values when distilled and sourced properly, are absolutely amazing! I had been aware of eos (or essential oils) for most of my adult life and even used them during my services as an aesthetician, and then a massage therapist. I had been taught they might help alleviate headaches, reduce stress, and provide aromatic benefits. My true understanding of the power of eos began just 18 months ago.
Being introduced to eos with some of the highest purity and distilling standards has opened new doors for me. Besides using them on a daily basis to enhance my family's over­all wellness, I have discovered their supportive value during a yoga practice.
Certain oils like Peppermint or Cardamom are considered vasodilators which encourage air ways to open increasing lung capacity and freer breathing. Increased Pranyama can bring breath and movement together more easily. Mindful breathing really brings body/mind/spirit connection full circle during a meaningful practice. Continued inhalation of Peppermint during yoga or exercise oxygenates blood cells increasing respiration. This internal chemical change in the body can help us move more or for a longer period of time. When Peppermint is inhaled thru the olfactory system, it signals the limbic system to send a message to our brain to breathe. Breathing normally is a parasympathetic response, but we sometimes find ourselves holding our breath while holding a pose. A whiff of Peppermint can signal the brain to breathe. Some days I can use all the help I can get!
A powerful and potent oil, like Frankincense, can increase focus, concentration, and provide a sense of grounding to our mood and body. This oil, when applied to the root chakra, brings stability and balance to our emotions; a great oil to use to settle into a yoga practice, during Triangle or Grounding Poses, and to enhance a meditation session. Knowing that Frankincense can cross the blood­brain barrier, apply this oil to base of brainstem and top of spine for increased concentration or focus. Application to the tailbone, legs, or feet helps the mind and body become more rooted and balanced.
Have I mentioned Lavender? Ahhhh! One of my favorites all around. Inhaling or ingesting a high quality Lavender can bring on a sense of peace and calm in a heartbeat. It is also a soothing addition to offer during Savasana; simply rub between palms and hold above nose for a few deep breaths. Finish by dragging the finger tips up and over the 3rd eye. Heaven! Lavender is not as well known for its anti-inflammatory properties. Sore muscles from a rigorous practice can benefit from a direct application diluted with a carrier oil. Have a headache prior to practice? Rub a drop onto temple or scalp when headache is present.
Practicing in a studio or with a pod of yogis? Bring your Melaleuca oil to class. Melaleuca is anti-fungal, anti­bacterial, anti­viral, anti­microbial, anti­septic, and anti-­inflammatory. Phew! Not even sure I covered them all. Put in a glass spray bottle as a hand sanitizer or mat cleaner without all the toxic chemicals. Research shows it is such a strong germicide that it can even kill staph. Melaleuca can also boost our immune systems when applied to the bottoms of the feet or a drop under the tongue. Remember...only high quality, food­ grade, internal ingestion eos under the tongue.
While teaching yoga I must incorporate at least 1 essential oil every time. It not only enhances their yoga class, it helps me stay relaxed and focused to give my yogis an awesome experience on their mats. My hope is that it carries them through their day, while at the same time, leaves them wanting for more.
About Tonya Harriman-Fowler:
Tonya came to yoga later in life and now cannot imagine her life without it! Yoga has increased her fitness level, as well as her ability to be a more mindful and balanced human being. She is super excited to complete her 200 RYT training this August and truly believes her yoga training is just beginning!Come to her classes expecting a full body/mind experience. She brings life experience from her own yoga journey with a little humor thrown in. You can expect proper alignment cues, creative sequencing, and hands on assists with essential oils all while enjoying her eclectic taste in yoga music.