By: Tiffany Luc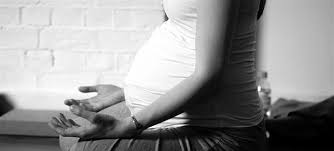 You're pregnant! Now what? Do you continue on in your already-established yoga practice? Or maybe yoga is something you have always wanted to try and now that you are pregnant you aren't sure if this is the best time to begin a practice. Either scenario is perplexing and comes with a multitude of questions (as with anything in pregnancy, right?!). I'm here to hopefully shed some light on the subject and give you some of the answers you are looking for.
Currently being a practicing "pregnant yogi" myself, I have done tons of research on continuing on in my own practice safely to gain all of the benefits that yoga has to offer in this amazing time in my life.
Here are my top 5 reasons to try (or continue on with!) a yoga practice during pregnancy:
1. Less Aches and Pains
One thing you cannot avoid with pregnancy are the additional pounds you will gain and the stress it will ultimately put on your body. I know that in my previous pregnancies, by the time the third trimester rolled around, I was constantly nursing some sort of sore muscle or backache. Yoga can help all of this by continually stretching and strengthening your entire body to support those added pounds - most importantly your pelvic floor, back and leg muscles.
2. Calming and Stress Reducing
Yoga is not only made up of movements, or asanas, but also breath work. Proper breathing is important to any yoga practice and can have enormous benefits during pregnancy. By utilizing the slow, deep breath that we use during our practice, we are sending our nervous system into parasympathetic mode, which will relax and calm us. Some other benefits that go hand in hand with this will be better sleep, proper digestion and increased immunity.
3. Labor Preparation
I'm sure you've seen it in the movies- the doctor, nurses and significant others in the delivery room coaching the soon-to-be mom to BREATHE! This is true of course, but yoga can help us prepare better than that. Whether you realize it happening or not, we are being taught increased focus, pain-coping practices and of course, proper breathing techniques every time we step on our mat. Meditation is also another popular benefit stemming from yoga that can aide in smoother deliveries for mom and baby.
4. Bonding With Baby
One of my favorite parts of any yoga practice, pregnant or not, is how in-tune you become with your body. During pregnancy, this is especially fun because there is another little person for you to become in-tune with. My meditations shift during pregnancy to "talking" to the baby and sending thoughts of love and safety. I also enjoy placing my hands on my stomach during the final resting pose or savasana, where I am able to connect and feel tons of movement. It's almost like baby is thanking me for taking care of him as well as myself!
5. Easier Recovery
Last but certainly not least, all of the work we continue to do on ourselves through prenatal yoga can lead to an easier recovery once baby is born. Our muscles are strong, and we are armed with tools that can help us relax and be more patient with the stresses that come with caring for a new little one.
I certainly hope this helps answers your question of whether or not to continue or try yoga during pregnancy!
About Tiffany Luc:
Tiffany originally came to her mat to help her overcome post-partum depression and anxiety - it worked, and so much more! Since then, she has found her individual identity and a deep passion to help others so she enrolled in teacher training and is currently working to complete her RYT-200. Her favorite quote is "Don't take life too seriously, none of us get out alive" and strives to create a fun yet empowering environment for her students while they are on their mat so they can carry that with them when they lea
ve.