Being nominated for Yogi of the Month is a kind of a big deal at Release. Our team nominates students (and occasionally each other) based on "living your yoga." It has very little to do with physical practice or attendance. It has to do more with an inner spirit, an internal strength in the face of adversity, a desire to give back, and a higher demonstration of the yogic principles of the Yamas and Niyamas.
With this in mind, we want to share our Yogis of the Year: Susanne and Gina Cross.
We have watched Susanne and Gina struggle through a pretty tough year by anyone's standards. And somehow, someway, they always brighten our day. More importantly, they inspire us to be a little better… We know what we provide for them really makes a difference in their lives.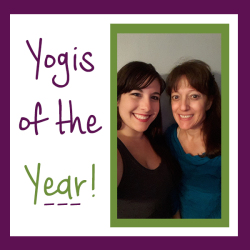 We are so humbled to share a message from Gina and Susanne:
"Yoga impacted our lives tremendously in the past year. To begin with, we would say it has been what has kept us afloat and able to smile when the worst of things happened. We originally joined Release as a way to spend time together, get healthier, and relax a bit... But it ended up being this amazing tool that helped us not only spend time together, but find confidence, contentment, strength, and a way to release all of our emotions and deal with the ups and downs of life. We put yoga's amazing benefits to the test this year with Gina having to get over a failed engagement and then five months later losing our father/husband very suddenly to lung cancer. Although we took a break from our classes during this really hard period, we would say we kept the in mind the practices of yoga and tried to deal with everything with an open mind and heart. This allowed us to be there for each other and have the strength to keep going. Thanks again for choosing us!"


As our new "Yogis of the Year," Gina and Susanne selected
Stewart's Caring Place
as Release Yoga's core charity starting in August. Stewart's provides a free services to Akron area cancer patients and their families including support groups, counseling, financial help, beauty and wig products, massages, and other health and wellness programs. Look for more information on how to support this great organization over the next 12 months!