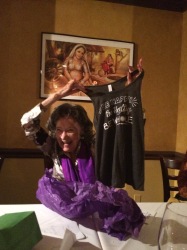 This month a small group of Release yogis took a road trip to practice with
Tao Porchon-Lynch
, the World's Oldest Living Yoga Teacher at one of her home base location in White Plains, New York.
I feel so blessed to have had the company of Evie King, Javan Robinson, Casandra Rose, Melanie Schumaker, Nicole Shell, and Wendy and Casey Swanson. We had a fantastic private dinner with Tao and her friend Joyce Pines... it was truly an evening to remember!
I thought I would share a few memorable quotes and photographs with you. Enjoy!
"You can do anything!"
"Always, always stay positive. Trust that today will be the best day of your life."
"I really don't know what I want to be ... I'm still growing up."
"I have so many ideas. So many crazy ideas. I just keep thinking of them and they somehow become reality!"
"Your breath is your life. You have your whole life ahead of you until you stop breathing."
"We need to learn from the trees ... every blade of grass, every leaf, every bug is telling us something."
(We explained to her who Adam Levine is at dinner, which led to showing her his photo ....) Her response when she saw him was "Oh, that's nice!!!!"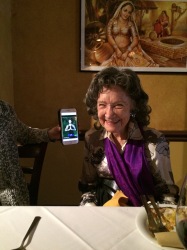 A few more fun facts:
Tao owns a Smart Car and still drives. See her zipping off to teach a 3 hour workshop (1 hour away). This is AFTER teaching two 1.5 hour classes!
Tao wears high heels EVERYWHERE. She only takes them off to teach yoga. She was voted "Best Legs In Europe" during WWII.
Lastly, I leave you with this truth. Your intentions become your reality, even if you don't really understand your intention at the time...
Back in 2013, when opening a yoga studio was really a far away day dream, I created a vision board. Smack dab in the middle is a quote from Tao (at the time I didn't even know who she was). And for some reason I clearly remember thinking, "Wow, I want to be as much like this woman as possible ... life is too short". I randomly glued her photo to the back of the board. Literally everything linked to that board has come true in ways I could never have imagined.
With Love,
Pattie