Shanika Cochran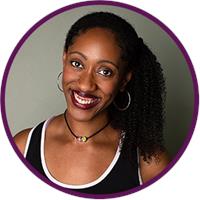 Shanika is a licensed Zumba® instructor, ZIN affiliate, and Faster EFT practitioner. Additionally, she earned a master's degree in Higher Education/Student Affairs from Virginia Tech and has served as mentor, advisor, supervisor, life coach to students and para professionals. When she's not dancing or practicing yoga, she and her husband are busy working for a non-profit organization and raising two fun-loving kids.
My teaching style: Holistic, uplifting and purposeful. As a Zumba® instructor I always aim to maintain positive energy, encouraging students to have fun as we grow together.


Favorite Yoga pose: Shavasana. I honestly love how the word flows out of the mouth. In this pose I feel the most reflective and vulnerable. Plus, it's inclusive; I find joy knowing that everyone can do this pose.


Yoga has helped me overcome: The chaos of self-doubt and stress. Also it helps tremendously with soreness from weight-lifting.


I love my: Mind because it's the most powerful part about me, where my dreams, beliefs, ideas and goals begin.


My favorite God is: Jesus because He teaches me how to love others and myself.


You must try this healthy snack: Zucchini chips with sea salt and pepper.


My favorite Sanskrit word is: "Ananda" (bliss) the condition of utter joy.


My advice for beginning yogis is: Breathe and relax. Also, be patient with yourself. Time is essential for growth.


I'm most grateful for God and His love, the love given to me by the people he's put in my life.


The most exotic place I've practiced yoga: Virginia Beach at sunset.


If I could practice yoga with anyone it would be: Alex Aris because she's a dear friend
and I am inspired by her story and flexibility.


I'm about to take my yoga to the next level because I'm surrounded by the wonderful
Release teachers. I will have a plethora of opportunities to grow and learn!


My heroes are: Maya Angelou. I met her once and the experience was profound. Maya embodied strength, kindness, and her words made me believe I could be anything-that I thought mattered. Also, my husband (Robert Cochran) because he's the most honest and loyal person I know.
My super power is: being a super-recognizer because I never forget a face! I once won a prize for matching celebrities with their baby photos!
My one wish for the world: For us to be kind, slow to criticize and quick to listen. We are all connected.
Shanika Cochran instructs the following:
Perfect for everybody and every body! Each Zumba® class is designed to bring people together to sweat it on.

We take the "work" out of workout, by mixing low-intensity and high-intensity moves for an interval-style, calorie-burning dance fitness party. Once the Latin and World rhythms take over, you'll see why Zumba® Fitness classes are often called exercise in disguise!

Our classes provide a total workout, combining all elements of fitness – cardio, muscle conditioning, balance and flexibility, boosted energy and a serious dose of awesome each time you leave class.