Crystal Tyler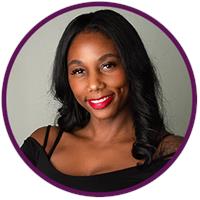 Crystal has been a student for over 8 years and practices Vinyasa Flow with a little bit of Ashtanga. She loves being upside down! Being uncomfortable helps her to find her comfort.

My teaching style: Don't mistake my quite nature ... I deliver an intense Hot Power class!


My favorite yoga pose is: Handstand.


Yoga has helped me overcome: Attachment to things that no longer serve a purpose in my life.


My favorite diety/god is: Jesus. Because I believe that all things are possible through him.


You must try this healthy snack: Jerk Salmon


My favorite Sankrit phrase is: Chataranga Dandasana because their is immense power power in those words.


My advice for beginning yogis: Relax, be open and doubt your doubt.


I'm most grateful for: Being able to share myself and the gifts I have to offer with the world.


The most exotic place I've practice yoga is: Punta Cana


If I could practice with anyone it would be: Baron Baptiste because I love his spiritual focus.


I'm excited to take to take my yoga practice to the next level because: It's time for me to teach what I've been taught.


My heroes are: My kids.


My super power is: being a single parent super mom and making things happen even when I don't feel like it!
My wish for the world is: Learn to love more.
Crystal Tyler instructs the following:
Bring on the heat! Aimed at testing the strength and endurance of both mind and body, our Hot Power yoga classes contain powerful sequencing, more advanced poses (modifications offered), and always the invitation to come find your edge. You will leave this class empowered and alive (and not to mention, a little sweaty)!
Temperature: 90°