Olivia Raydo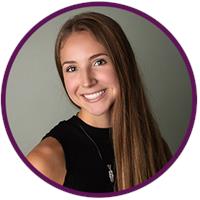 Liv is currently a student at Jackson High School and is also also taking classes at Stark State. She is passionate about photography and has been since elementary school. She is someone who loves to try new things, yoga for example! She aspires to be a yoga teacher someday and knows it just takes patience and practice.


My favorite yoga pose is: Child's pose because it is where I feel most relaxed.

Yoga has helped me overcome: Stress at certain times in my life. Once I start focusing on my breathing, I forget all the chaos going on in my world.

I love my legs because: They're the strongest part of my body.

My favorite deity or god/goddess is: Jesus. He is my strength.

You must try this healthy snack: Wheat toast loaded with peanut butter, banana slices, and honey. It's sweet, delicious, and healthy!

My favorite Sanskrit word or phrase is: Namaste because it acknowledges others in the room and builds a connection between everyone. It reminds me that we all have greatness within ourselves.

My advice for beginning yogi is: It may be challenging at first but the more you do it, the better you will become.

I'm most grateful for: I have so many things to be grateful for, but the top of my list would be my friends and family that love me unconditionally.

The most exotic place I've practiced yoga is: Florida, I went to a yoga class that took place on a covered porch while it was raining. The mix of fresh air and the sound of rain made my experience so peaceful.

If I could practice yoga with anyone it would be: Tash Sultana because she has such a beautiful and chill personality. She also makes amazing music, check her out!

I'm eager to take my yoga to the next level because: I want to grow and further my skills and hopefully teach one day.

My hero is: Music because it always puts me in a better mood whenever I'm having a bad day.
My super power is: putting in my best effort at everything I do!
My one wish for the world is: For everyone to be loving and supportive of one another.


Olivia Raydo is currently not instructing any classes.