April Templeton Brenneman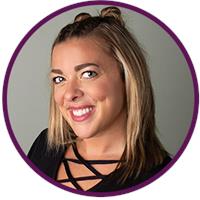 April Templeton Brenneman first started her dance training at the age of 8 under the late Richard Moore. Over the years, she continues to study her craft by traveling to numerous conventions, studios, and never turning down an opportunity to take class or perform. April hopes to continue inspiring students, and that she may be a teacher who makes a difference in the lives of others while she is teaching, training, and collaborating new innovative concepts to bring to her classes.
My teaching style is: Hip hop dance
My favorite hip hop pose is: I love a good "peace sign, curled lip" action.
Hip hop has helped me overcome: Feelings of insecurity. In the world of dance, things can become very critical, especially when it comes to appearance. The genre of hip hop allows me to have more freedom in how I move, what I wear, and the type of attitude I want to portray.
I love my Smile because: it can affect others in a positive way.
My favorite deity or god/goddess is (blank) because: "Bia," The goddess of force and raw energy.
You must try this healthy snack: Celery sticks and peanut butter. Have loved them since being a kid!
My favorite phrase is: "Your energy speaks before you do."
My advice for beginning hip hoppers is: Trust that you are not alone in thinking you will not be good at it. Getting yourself through the door is the first step— from there, it's just about positive vibes and a lot of sweating!
I'm most grateful for: The love and energy that I receive back from my students. There is no way I would be able to accomplish a great class without their hard work and dedication.
The most exciting place I've practiced hip hop is: New York City, teaching last summer for "The Broadway Dance Center."
If I could practice hip hop with anyone it would be Michael Jackson because so many things I do in my own practice have been influenced by him!
I'm ready to take my hip hop to the next level because: I adore being a student. I truly believe that there is an infinite amount of knowledge and skill to be learned in the dance world.
My heroes are: My husband because he has been such a supportive part of my dance/teaching career— and my longtime Theatre 8:15 mentors that have really pushed me to be the best teacher/dancer I can be.
My one wish for the world is: To not hold back on anything. If you have a dream go for it.
April Templeton Brenneman is currently not instructing any classes.