Elyza Morckel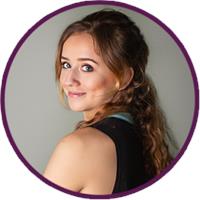 During Elyza's four years in high school, she has done synchronized swimming for our Catalina Club. Throughout the summer months (2015-2016-2017), she was a synchronized swim coach at two different clubs in West Akron and Fairlawn. She has been dancing for the last 11 years at her dance studio in Green and has studied dance at two visual and performing arts schools (total of 9 years of studies).
In the fall 2017 she will begin studying at KSU as a dance major. Elyza loves going out on the town and doing exciting things with friends and family.
My favorite yoga pose is: Dancer.
Yoga has helped me overcome: Stress.
I love my feet because they take me everywhere and keep me grounded.
My favorite goddess is Athena because she is known for her wisdom.
You must try this healthy snack: Kale chips.
My favorite Sanskrit word or phrase is Satyai represents truth and honesty -- I always try to be honest in life, in everything I do.
My advice for beginning yogis is: Don't be afraid to touch your toes and just keep doing yoga, don't stop.
I'm most grateful for: The people in my life and their faith and strength in the Lord.
The most exotic place I've practiced yoga is: The beach -- I highly recommend it!
If I could practice yoga with anyone it would be Legolas from Lord of the Rings because he is the coolest fictional character known to the world.
I'm excited to teach because I have always had a love for yoga.
My heroes are: Family, Friends and Thor.
My one wish for the world is: World peace, no more wars.
Elyza Morckel is currently not instructing any classes.