Greg Schumacher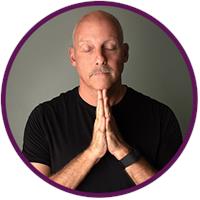 My teaching style is: Evolving with an emphasis on safety & exploration.
My favorite yoga pose is: Downward Facing Dog
Yoga has helped me overcome: My inner "critic". I am learning that yoga can be a path to self-acceptance which potentially is one of the most difficult paths to follow.
I love my feet because: It is our feet that support us every day in our physical endeavors
My favorite deity or god/goddess is Shiva Bhairava, the Beggar with Dogs, because: This deity represents those who have been disfranchised from society. As an educator, I advocate & work with students with disabilities. Many of these students are considered on the fringe of society, & predominately come from poverty. I have also been blessed with the companionship of dogs whose example of unconditional love continue to inspire me.
You must try this healthy snack: Spinach…raw, steamed, sautéed, even fried!
My favorite Sanskrit word or phrase is Jai because: It means victory, specifically victory to one's Higher self.
My advice for beginning yogis is: Keep at it, & let it permeate your being.
I'm most grateful for: Those individuals in the past & present who have taught me something about myself.
The most exotic place I've practiced yoga is: I don't know if I consider this "exotic" but it was an interesting experience: A mixed gender, all- nude yoga class in the Castro District, San Francisco, CA
If I could practice yoga with anyone it would be Mom because: I miss her.
I'm motivated to take my yoga to the next level because: I am learning that as I embrace the deeper aspects of yoga (not just asana) that life, though chaotic at times, can be more centered.
My heroes are: Those everyday people who help others.
My one wish for the world is: That everyone takes the time to get to know themselves.
Greg Schumacher instructs the following:
Explore the immense benefits of mindful meditation including deep relaxation, increased optimism, pain relief, and decreased anxiety and/or depression. Many struggle with developing a meditation practice due to the prolonged sitting. Combined with guidance and gentle, periodic movement, mediation becomes much more accessible to all.
Temperature: 72-74°




The best of both worlds!

The Yin portion of this class is a gentle, quiet, and meditative practice that teaches us to relax and accept ourselves just as we are. Yin poses allow muscles to relax and deep connective tissues surrounding the hips, thighs, and lower back to be gently stretched. Through mindful stretching, Yin Yoga maintains the health of the connective tissue and encourages free flow of qi (energy) in the body. Poses are held for longer periods of time (generally 3-5 minutes) and awareness is brought to sensations in the body.


The Yang portion of this class allows us to integrate this openness and awareness into a sense of steadiness and alignment with a short, gentle vinyasa flow in our practice.

This class is suitable for all levels. Temperature: 72




Lit by candles, Our Restorative Yoga is a practice of stillness and ease. We'll use blocks, bolsters, blankets to relax deeply into restorative yoga postures. This style of yoga is an ideal complement to its more fiery counterpart: Power Yoga. Relieve stress, melt away tension, and calm your nervous system with this deeply healing practice.
Temperature: 78°-82°




Vinyasa, commonly referred to as a "flow" style, is a flowing, dynamic yoga practice that connects movement with breath. This moderately paced practice seamlessly blends one pose into another to create heat in the body, build strength, improve balance, and increase flexibility. While these classes are appropriate for all levels of practitioners, some experience is suggested.
Temperature: Warm Flow: 82°-86°