Nikki Cvammen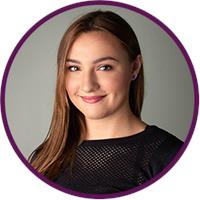 Nikki is attends Kent State Stark and is studying Music Technology and Audio Recording. She loves to sing, compose music, teach yoga, do art and eat!. The number one thing on her bucket list is to visit and camp under the Northern Lights.
My favorite yoga pose is: Tripod.
Yoga has helped me overcome: Stress and self-consciousness
I love my heart because it is my center and helps me make new relationships.
My favorite goddess is Athena she is the symbol for wisdom and strength, which I find very important in my life.
You must try this healthy snack: celery juice, you put celery stalks in a blender and drink the juice. It's a fun twist to eating a healthy snack and it's very refreshing.
My favorite Sanskrit word or phrase is Bhakti because its root word is "bhai" which means to love and worship God. I love this word because it reminds me that I can worship the Lord along with doing my practice.
My advice for beginning yogis is: Breathe, it's the most important part of everything we do.
I'm most grateful for: My family and opportunities I have been blessed with.
The most exotic place I've practiced yoga is: In the middle of a river on a huge rock! Frightening, but also exhilarating.
If I could practice yoga with anyone it would be Michael Scott.
I'm ecstatic to take my yoga to the next level because: I cannot wait to succeed at positions that I cannot get currently and I just love doing yoga, it's a part of my life now.
My heroes are: God and my mom.
My one wish for the world is: Appreciate the little things and the natural bliss of the Earth.
Nikki Cvammen instructs the following:
We've adapted our vinyasa flow class and taken it to the sky! This flowing, dynamic yoga practice connects movement with breath while offering the unique experience of a yoga hammock. Our fully aerial yoga certified teachers seamlessly blend one pose into another to create heat in the body, build strength, improve balance, and increase flexibility. Prior yoga and/or aerial yoga is highly encouraged. Expect to leave invigorated and revitalized! All health and age guidelines mentioned in our Aerial Beginner's class apply.
Temperature: 72°-76°




Take your barre to the next level. This class will still cover the basics of proper alignment, positions, props and terminology but will step up the challenge a little bit with added options and modifications to suit any level of student. Please bring along your yoga mat (or plan to rent one of ours).
Temperature: 72-73°




Sip some wine, enjoy 20% all the boutique items to round out your holiday gift list and swing, flip and fly during our 5:15-6:15 Aerial Yoga class. The perfect way to spend some time with a friend before the holidays!