Nate Jackson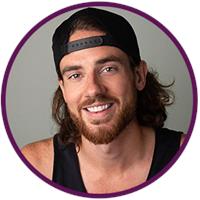 Nate is a recovering class clown, but relapses daily. He sees yoga as a playground for communal healing and challenging growth. When he's not teaching yoga, Nate helps fathers reconnect with their families with a local nonprofit. He can also occasionally be spotted Heely-ing through the streets of Cleveland.
My teaching style is: down-to-earth, physically innovative (integrated strength and mobility work), and individualized.
My favorite yoga pose is: locust so I can pretend to be a jet (and maybe challenge some ujjayi breathing).
Yoga has helped me overcome: neck pain and body shame.
I love my second toe on my right foot ('the toe")… come check it out and witness its glory.
My favorite deity is: brahman or "ultimate reality" because it pacifies my heart to remember that what is true is true whatever my feelings or perceptions dictate.
You must try this healthy snack: Krave Jerky it's healthy and unconventional flavors of various dehydrated meats.
My favorite Sanskrit word or phrase is Namaste because I'm basic AF, but seriously because it truly is a lifestyle of appreciating the imago dei (image of God) in everyone.
My advice for beginning yogis is: start with your breath. Master your ujjayi (ocean breath)… google it, study it, practice it at least 5 minutes every day for your first month. It affects everything.
I'm most grateful for: 8 awesome niblings (nephews and nieces).
The most exotic place I've practiced yoga is: in my mind… it gets crazy up there.
If I could practice yoga with anyone it would be with my beautiful sister, Tricia, because she introduced me to both yoga and a deep well of grace and compassion.
My heroes are: Aladdin and Abu.
My one wish for the world is: for compassion to become more contagious and invade areas of personal and systemic suffering.
Nate Jackson instructs the following:
Vinyasa, commonly referred to as a "flow" style, is a flowing, dynamic yoga practice that connects movement with breath. This moderately paced practice seamlessly blends one pose into another to create heat in the body, build strength, improve balance, and increase flexibility. While these classes are appropriate for all levels of practitioners, some experience is suggested.
Temperature: Warm Flow: 82°-86°




Our monthly class tailored to those in substance abuse recovery (and for the people that love them).

Friends, family are welcomed and the cost is *FREE!*. Donations encouraged with proceeds going to the Interval Brotherhood Home (IBH).

Want more info on our work with recovery yoga? http://releaseyoga.liveeditaurora.com/release-grows-roots
This is always a lively, soul stirring class. See you there!