Sydney Corbin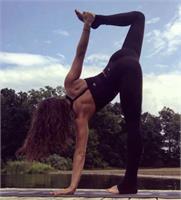 Sydney came to her mat at Release a year ago. Her journey to crafting this life has been a colorful one. As a disciple of Christ, she has found that yoga can be one of many ways she connects with God. You can count on a fiery flow in her classes with a heavy emphasis on the use of breath as a tool to cleanse the mind and body. Sydney has a burning desire to lead her students on a path of falling in love with yoga and growing towards the knowledge of their true self.
My teaching style is: Challenging, authentic, and explorative. I love pushing my practice to the edge and playing with new movements. I love my core because: It's strong and powerful. It holds the fire to my practice. You must try this healthy snack: Avocado and tomato on whole grain seed toast.
My favorite Sanskrit word or phrase is ... because: Ahimsa: Nonharmning."Ahimsa" is as the absence of violence but also conscious consideration and love for one's self and others.
My advice for beginning yogis is: Remember that your practice is an individual process. No one else is inside your body, Listen to it and respect what it tells you.
I'm most grateful for:Every twist and turn in the road that lead me to where I am today. Because it led me to exactly where I'm meant to be - RIGHT HERE! The most exotic place I've practiced yoga is: Off the grid in the mountains of Oahu,
Hawaii!
Sydney Corbin instructs the following:



A strong core can alleviate back pain, improve balance & posture, and is essential for expanding your yoga practice. This class is designed to bring awareness to and strengthen the core muscles, flowing through a sweat-inducing series of poses to activate the abs. You'll be coming back to your mat stronger than before!
Temperature: 90°




Bring on the heat! Aimed at testing the strength and endurance of both mind and body, our Hot Power yoga classes contain powerful sequencing, more advanced poses (modifications offered), and always the invitation to come find your edge. You will leave this class empowered and alive (and not to mention, a little sweaty)!
Temperature: 90°




We've adapted our vinyasa flow class and taken it to the sky! This flowing, dynamic yoga practice connects movement with breath while offering the unique experience of a yoga hammock. Our fully aerial yoga certified teachers seamlessly blend one pose into another to create heat in the body, build strength, improve balance, and increase flexibility. Prior yoga and/or aerial yoga is highly encouraged. Expect to leave invigorated and revitalized! All health and age guidelines mentioned in our Aerial Beginner's class apply.
Temperature: 72°-76°




Feel comfortable with intermediate aerial yoga flips and tricks?

Ready to fly?! Join Sydney as she takes you through advanced level flips and tricks on our beautiful hammocks. Discover a whole new level of practice and possibility while safely suspended from the air.

Please note, an regular aerial yoga practice (i.e. normally scheduled aerial yoga classes) and/or prior attendance at the Intermediate Flips & Tricks workshop is highly recommended.

Price special! $19 per workshop or $35 if you enroll in the Advanced version of this workshop at the same time!

---

Please note, this workshop requires a 3 person pre-enrollment minimum to run (unless otherwise stated). If there are not 3 people signed up within 36 hours of the workshop, it will be cancelled. Please help us support this policy by signing up for workshops days in advance!