Lindsay Venham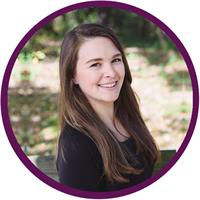 Lindsay first came to her yoga mat in 2014. Not long after, where there was stillness in her chest, there had become life and she was seeing and feeling the world for the first time from a place of nirvana. Trained in Baptiste yoga and equipped with a laidback, peaceful style, she focuses on guiding you through smooth Vinyasa sequencing to build strength and flexibility, or easing you into Restorative poses, typically sprinkled with guided meditation and essential oils. As a yoga guide, her goal is to bring you to your most inner self and introduce you to the raw and real you; give you a safe space to practice "being," while you bloom into who you are meant to be.
My teaching style is: Super chill, attentive, and inviting.
My favorite yoga pose is: Nothing quite like gorilla pose halfway through a power class! The release you get across the upper back is so fantastic.
Yoga has helped me overcome: A lot of unnecessary noise in my mind. I've been able to change and control my way of thinking and my ego. My eyes are wide open and my mind is peaceful.
I love my arms because: I love my lanky arms and legs! They've caused many awkward years growing up, but now they're super helpful getting in, and out of poses and probably make me look more flexible that I really am.
My favorite deity god is: Loki! He is the god of mischief and trickery, and although he has a pretty bad rep in foundational Norse mythology, I think we could learn a little from him. Don't take things too seriously, and allow yourself to have fun. Just don't try to take a Mjolnir that doesn't belong to you! :P
You must try this healthy snack: Cold veggie pizza on the crescent dough with ranch cream cheese as the sauce. Sooo good!
My favorite Sanskrit word or phrase is: Satya, or "truth." I'm so obsessed with this Yama. It's all about knowing the ultimate truth from matter of opinion, and knowing how to exercise restraint when your perceived truth is not helpful. Humanity needs more of that, IMO.
My advice for beginning yogis is: It never gets easier, you just get stronger!
I'm most grateful for: My past experiences and mistakes. I'd not be who I am today without them.
The most exotic place I've practiced yoga is: Maybe not "exotic" but I've found this huge weeping willow tree next to a lake I like to practice under in the mornings.
If I could practice yoga with anyone it would be:The love of my life, my dream boat, Ralphie. I'll get him on a mat some day!
I'm excited to take my yoga to the next level because: I'm super excited to take my yoga to the next level so I have more knowledge to share with my students.
My heroes are: All the people fighting their hardest for all the species and ecosystems who are being exploited for humanity's gain.
My one wish for the world is: That we can realize that as the most intelligent, able bodied animals on the planet, it is in our best interest to protect and be kind. We can't survive without nature, plants, animals, and insects; all of it can survive without us, though.
Lindsay Venham instructs the following: