Andrea Carlisle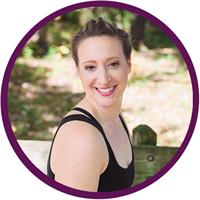 Andrea Carlisle completed her 200 hour RYT from Release Yoga in 2016. Andrea loves to explore movement and mind-body connections through creative sequencing. She approaches her edge head-on with arm balances and inversions, which act as her form of meditation. She likes to be challenged and therefore challenges her students to also face fears and break down mental barriers, allowing them to grow and thrive on and off the mat. With a light heart and an upbeat attitude, Andrea hopes her students will leave feeling confident and strong, like they can conquer any obstacle in their path.
My teaching style is: Challenging and explorative. I love discovering new movements and taking my practice to the edge.
My favorite yoga pose is: Any inversion! I love changing my perspective and finding that balance of strength and ease.
Yoga has helped me overcome: Fear of the future. Living in the present moment is the best thing you can do for yourself!
I love my... because: Face!! Because I show so much of myself through facial expression. Plus it has my mouth which I need for eating-one of my favorite things to do!
My favorite deity or god/goddess is... because: You must try this healthy snack: Almond milk, banana, cocoa powder, cayenne pepper smoothie. WOW
My favorite Sanskrit word or phrase is... because: Ahimsa, which means nonviolence. I always try to remember that my reactions to people speak so loudly. Thinking of this Yama reminds me to stop and think before reacting to situations, so that I might not hurt anyone with what I have to say.
My advice for beginning yogis is: Just enjoy the journey! Stay positive and keep coming back to your mat. It will always accept you, no matter where you are in life!
I'm most grateful for: My family who has always been so supportive of everything I do!
I'm (blank) to take my yoga to the next level because: Always trying; I enjoy every challenge it brings. Remaining stagnant does nothing but hinder you. Challenging my body means challenging my mind, and in turn I am constantly learning, growing and evolving. My journey is never ending!
My one wish for the world is: To stop treating each other so poorly and stop killing people when we decide we disagree with them. Life is already too short and too fragile. We need to respect one another and find joy in our differences instead of using them as a means to spread hate and violence.
Andrea Carlisle instructs the following:
Tone and sculpt the body while you unleash your inner goddess with Buti Yoga!

Buti Yoga is a soulful blend of power yoga, cardio-intensive tribal dance, plyometrics and deep abdominal toning. This all-inclusive workout is not only for the body, but for the mind and soul.




Our Warm Beginner's class offers all the same benefits of our "Beginner's Basics" with some sweet gentle heat to help you ease into your postures.