Jenny Keaton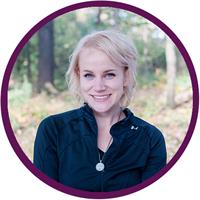 Jenny started doing yoga back in 2010 with youtube videos. After attending hot yoga classes for a couple years and taking Teacher Training in 2014,she has taught yoga to a number of different groups, including seniors, inner city youth, and recovering addicts. She loves helping people find their power and their true selves!
My teaching style is: Peaceful, fun, deep, and humorous. I try to encourage students to find their edge, be able to laugh and at the same time take a profound look at themselves.
My favorite yoga pose is: Vrscikasana (scorpion pose). I've had dreams of getting into the pose and recently starting getting into it. The challenge of getting into a new pose is always fun and rewarding!
Yoga has helped me overcome: Daily stress, maintaining balance, and building a stronger relationship with myself. When I am on the mat I only focus on my breath and the poses, and the rest of my life is put on hold.
My favorite music to practice to is: Indie music and traditional Tibetan/ yogic trance music.
I love my: Heart! It is the best thing I have to offer to the world.
My favorite Sanskrit word is: Ziji, which can mean "light, dignity, confidence". It is known to translate into how one carries oneself.
You must try this healthy snack: Black bean burgers with avocado on top! Currently my new favorite.
My advice for beginning yogis is: Yoga is just being and breathing on your mat with your body. You will be challenged and tempted to compare yourself to others, but know that no two bodies are the same. Give yourself a chance and try it! I dare you to fall in love with your practice.
I'm most grateful for: People who go out of their way to help others, my eyes so I can see, my feet so I can walk, and my heart so I can love!
The most exotic place that I've practiced yoga is: In London, on a hostel's balcony!
If I could practice yoga with anyone, it would be: Les Leventhal, who is a yogi inspiration! Check out his book.
I'm inspired to take my yoga to the next level: I am looking into a special training with Y12SR, which will allow me to teach yoga and hold meetings with people who are familiar with the 12 steps and addiction.
My heroes are: Anyone who has had a challenge in their life and has gone through it with grace and strength. I look up to those people on a daily basis!
My one wish for the world is: That we always give a hand to someone reaching out for help.
Jenny Keaton is currently not instructing any classes.