Natalie Ault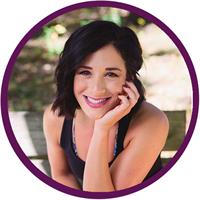 Natalie's yoga practice has been evolving over the past decade. She has completed my 200 hour RYT training through Release Yoga Studio and is now certified through Yoga Alliance. She has been influenced by an assortment of yoga workshops, studios, and other fitness interests. Her classes are just like my personality.. upbeat, challenging, igniting, and true! Natalie knows how important it is to be mindful of your own body and recognize that every soul has its own brilliance. Her authenticity for my yoga practice has strengthened her mind-body-spirit! She aspires to help you discover that realization as well. Natalie has no doubt that yoga is made for everyBODY and welcome you with an open heart. Roll out your mat and get ready to awaken, recharge, and let your core shine!
My favorite yoga pose: half pigeon.
Yoga has helped me overcome: my over focusing on the future. It has taught me to be in the NOW and to enjoy every moment.
I love my butt because: its a family heirloom I'm proud to represent.
My favorite god is Shiva because: he is such a pillar. Regarded as formless, limitless, transcendent, and unchanging. Shiva was known for his fearsome aspects but with his drum known for his famous dancing representation. Strong and fun!
You must try this healthy snack: No Bake Energy Bites - 1/3c honey, 1/2c peanut butter, 1c oats, 6tbsp chocolate chips, 1tsp vanilla extract, 1/2c golden flaxseed meal, & 2/3c coconut flakes. Mix ingredients all together. Transfer mixture to refrigerator or freezer until set. Remove and shape into 1-inch balls. Store in refrigerator.
My favorite Sanskrit word is: "OM" because it connects us to a state of just being and feeling. It unites us back to our basic selves.
My advice for new yogis is: "It is better to have tried something you may fear, than to sit and wonder what it could be like."
I am most grateful for: LIFE - and living it!!
The most exotic places I have practiced yoga is: on the beaches of Mexico and on the streets of Florence. Headstands everywhere :)
If I could practice yoga with anyone it would be: everyone! I want everyone and everybody to benefit from all that yoga has to offer us - Mind, Body, & Spirit!
I'm excited to take my yoga journey to the next level because: each day I learn something new and I look forward to having the opportunity to share that knowledge with others.
My heroes are: my grandparents! All simple, hard working, supportive, and compassionate individuals who taught me integrity.
My one wish for the world: To feel LOVE and spread the LOVE
Natalie Ault is currently not instructing any classes.