Elianae Stone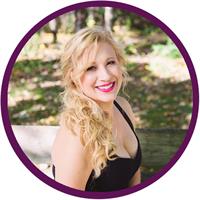 Elianae has been dancing for over 25 years, and practicing yoga for over 15. She is honored to be part of the Release Yoga family, and hope that dance and movement arts become a staple of many Yoga Centers in the future. Her classes are open to all, and are a great compliment to your yoga practice. It is always rewarding to try something new! Join her!
My teaching style is: Enthusiastic, positive….I like to show students they can do things they thought they weren't capable of.
My favorite yoga pose is: Downward facing dog-great full body stretch!
Yoga has helped me overcome: Bad habits and take better care of myself, and also has helped me gain flexibility and longevity as a dancer and avoid injury.
I love my belly because: I love my belly becasue it is the part I am most self-conscious about, and through bellydance and core work I have been able to find ways to use it and make it stronger.
My favorite deity or god/goddess is..... because: I like examples of the compassionate, giving, motherly female archetype, such as Kwan Yin, Lakshmi, or the Virgin Mary. I like the gentler aspects of yin/yang personified, and the idea of a deity you could go to for help or comfort.
You must try this healthy snack: Peanut Oatmeal bars. Mix equal parts honey, peanut butter and oats together, then press into a pan and refrigerate. Cut into squares. They're like no-bakes, clean and healthy, and awesome for energy between classes!
My favorite Sanskrit word or phrase is... because: I'll admit I don't know alot of Sanskrit, but I love Mudras, and use them all the time in Bollywood class. ABHA is a name that means Light. I like Lightness of being a lot.
My advice for beginning yogis is: As a beginner in any discipline, including dance and yoga, you are in an exciting place. There are so many new things for you to learn! Trust your instructor-they are here for your growth. You found the right place at Release Yoga.
I'm most grateful for: A lifetime of dance and movement, and being able to share what I've learned with others.
The most exotic place I've practiced yoga is: I have danced/ performed at weddings in fancy hotels such as the Duquesne in Pittsburgh, or on the rooftop garden terrace of the Canton Museum of Art.
If I could practice yoga with anyone it would be... because: Shiva Rae because she's so down to earth and dances too!
I'm... to take my yoga to the next level because: I want to deepen my practice and use it as a compliment to my dance.
My heroes are: David Bowie
My one wish for the world is: That we could find peace and cultural tolerance and understanding.
Elianae Stone instructs the following: