Laramie Scanlon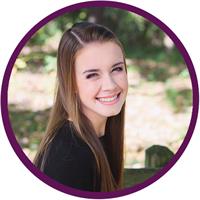 Laramie is a student at Jackson High School who began her yoga journey almost a year ago. At first yoga was just physical challenge that came with a good stretch. But over time she has realized that yoga is so much more. She has fallen in love with the way it provides challenges as well as a way to distress, refocus, and regain peace of mind. As she continues to practice, she hope to discover even more about her mind and body and share her passion with those around her.
My favorite yoga pose is: Crow. It's such a challenging yet fun pose that gives me a sense of strength and accomplishment.
Yoga has helped me overcome: My need to be in control and for everything to be perfect all the time. Yoga allows me to relax and refocus on what is truly important. It reminds me that not everything will always go as planned. You may lose your balance and fall, but it's okay because mistakes are what allow us to grow.
I love my feet because...: they give me stability and balance. Though they may be small they support the weight of my entire body and always get me where I need to go.
You must try this healthy snack: Greek yogurt with berries and granola.
My advice for beginning yogis is: I am still a beginner myself but yoga takes time and practice, so don't get frustrated right away. Yoga has some truly amazing things to offer so don't hesitate to give it a chance!
I'm most grateful for: My family. They have always been there to pick me up when I fall and they love me unconditionally. Without them I would not be the person I am today.
The most exotic place I've practiced yoga is: Cross Country Camp. It was not necessarily exotic by any means, but it was so much fun to practice with some of my closest friends, especially after a long and tiring day.
If I could practice yoga with anyone it would be Tyler Joseph because not only would it be amazing to meet him, but his music motivates and inspires me every day. His creativity and unique individuality would definitely bring a new feeling to any yoga class.
I'm inspired to take my yoga to the next level because: Each time I practice I learn something new about my body and what it is truly capable of.
My heroes are: My mom and grandma. They have both taught me so much, and continue to inspire me every day with their resilience and love for those around them.
My one wish for the world is: Health and Happiness.
Laramie Scanlon is currently not instructing any classes.