Ethan Wagner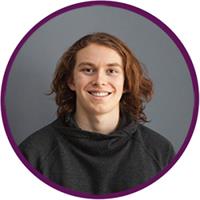 Ethan is a student at Jackson High School who began his yoga journey when his mom made him take class. He loves to cook super healthy (slightly exotic at times) foods. He works out daily as he loves to exercise. He spends his free time growing out his hair.
My favorite yoga pose is: Crow. It's such a challenging pose that always leaves me with a sense of strength and balance.
I love my: Ribcage because it accentuates my chest.
You must try this healthy snack: Sliced Jazz apples with roasted cinnamon and a touch salt. Put in a baggie, toss, eat.
My favorite Sanskrit word is: Vammocchedaka. Such a long word for "backspace".
I'm most grateful for: Xanthan Gum and how it brings a creamy texture to my cooking. Just a little goes a long way! Some people steer clear of it because they consider it an additive but it is arguably an all natural stabilizer. Check out this article: https://draxe.com/what-is-xanthan-gum/
The most exotic place I've practiced yoga is: My bedroom.
If I could practice yoga with anyone it would be: Thom Yorke, he's way too uptight.
My heroes are: I'm my own hero.
My one wish for the world is: Make seafood less expensive!
Ethan Wagner is currently not instructing any classes.