Sophi Stevenson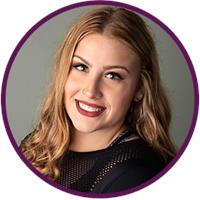 Sophi is a student at Green High School, and has been practicing yoga for five months. She fell in love with it the first time she tried it, at Release, and has been hooked ever since. Yoga has helped not only her physical body, but so many other aspects of her life too.
My favorite yoga pose is: Legs up the wall, because it's so relaxing.
Yoga has helped me overcome: My weight struggle. When I first started yoga, I only tried it for the workout aspect, but I soon realized that it was only the beginning of what yoga was doing for me.
I love my hair because: it is long, and natural, also I can do just about anything with it.
My favorite god/goddess is jesus because: my faith in Jesus is one of the things that keeps me grounded.
You must try this healthy snack: Apples and almond butter, or anything with almond butter really.
My favorite Sanskrit word or phrase is namaste because: it appreciates the love and life in everyone.
My advice for beginning yogis is: to try it! You never know whether you will like it or not. Also don't give up after your first time, it takes work and dedication.
I'm most grateful for: my friends and family, and all the opportunities that I have had.
If I could practice yoga with anyone it would be: Adele or Carrie Underwood because I am obsessed with their music and I love everything that they stand for.
I'm eager to take my yoga to the next level because: yoga has had such a huge impact on my life already, and I cannot wait to see what else it's gonna do for me.
My heroes are: Anyone who has served in the military, pushed for social change, and my Mom and Dad.
My one wish for the world is: For everyone to stop caring what others think, and for everyone to stop judging others. That everyone is happy.
Sophi Stevenson is currently not instructing any classes.