Erika Anderson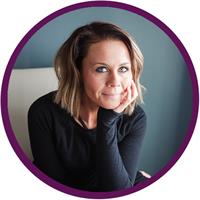 Erika is our new Assistant Studio Manager. She has been practicing yoga with us for a little over a year. She has fallen in love with not only the physical changes that yoga has made in her life, but also the release from stress it brings her. With her 5 years of managerial experience, she will be a great addition to the team.
My favorite yoga pose is: Half Pigeon. Its such a great emotion release pose.
Yoga has helped me overcome: Stress. I hold on to a ton of things that I shouldn't, and yoga has given me a sense of peace in my life.
I love my shoulders because: They are small and feminine, yet they are such a source of strength.
You must try this healthy snack: Any kind of veggies with red pepper hummus.
My advice for beginning yogis is: To just give it a try. It was so life changing for me, I truly believe everyone should give it a shot at least once.
I am most greatful for: My mom, she is such a strong independent person, and I wouldn't be who I am today without her.
The most exotic place I've practiced yoga is: My favorite city in the world, NYC!
If I could practice yoga with anyone it would be LeBron James because: He is a phenomenal athlete and is nice to look at as well!
My hero is: Beyonce. She is a powerful, intelligent woman who has built quite an empire for herself.
My once wish for the world: Is for everyone to slow down. So much of our lives pass us by, and we don't soak it in.
Erika Anderson instructs the following:









Class focusing strengthen your core




Seeking to enhance your life with a therapeutic yoga release? Our Restorative class with the added beauty of candlelight and just a touch of heat! Treat yourself to an all-level, gently warmed yoga class that allows you to explore a variety of yoga postures while incorporating the healing benefits of breath, restorative postures, meditation mixed with some gentle flow sequences. Our experienced instructors assess the needs of the class and adjust as needed.




Yoga with a beautiful view at one of Green's most fantastic restaurants? Yes, please! Join Release teachers at the Twisted Olive this summer to enjoy the fresh air and a little vitamin D while you practice.

These classes are appropriate for all experience levels of yogis, so bring a friend and stay afterwards to enjoy lunch or a glass of wine. The Twisted Olive warmly welcomes yoga attire (and a bit of sweat!) in their pub after class.

Yoga is under on the covered Pub Patio ... covered spots are first come first served (overflow will enjoy the grassy area). Event occurs rain or shine so please dress accordingly. Memberships and class passes apply (i.e. regular class rates and packages).

Have a sweet, sweaty, soulful summer!