Erika Anderson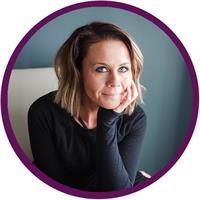 Erika is the Studio Director at release, as well as a RYT 200. She has been practicing yoga for a little over 7 years. She has fallen in love with not only the physical changes that yoga has made in her life, but also the release from stress yoga brings her. Her passion is teaching and taking high intensity Hot Power classes!
My favorite yoga pose is: Half Pigeon. Its such a great emotion release pose.
Yoga has helped me overcome: Stress. I hold on to a ton of things that I shouldn't, and yoga has given me a sense of peace in my life.
I love my shoulders because: They are small and feminine, yet they are such a source of strength.
You must try this healthy snack: Honey Crisp apples with whipped peanut butter.
My advice for beginning yogis is: To just give it a try. It was so life changing for me, I truly believe everyone should give it a shot at least once.
I am most greatful for: My mom, she is such a strong independent person, and I wouldn't be who I am today without her.
The most exotic place I've practiced yoga is: My favorite city in the world, NYC!
If I could practice yoga with anyone it would be my boyfriend Joe Bailey because: I am DETERMINED to get him on a mat!
My hero is: Beyonce. She is a powerful, intelligent woman who has built quite an empire for herself.
My once wish for the world: Is for everyone to slow down. So much of our lives pass us by, and we don't soak it in.
Erika Anderson instructs the following:



Strong, Sweaty, Soulful! This class is for intermediate to advanced yogis who want to enrich their physical practice with a deeper spiritual connection. This powerful offering features more traditional yoga music, places an emphasis on expanding your yoga practice beyond asana, and infuses a touch more yogic wisdom (and even a few OMs!).
Temperature: 90°




Have fun with a combination of hip hop beats and classic vinyasa flow sequences that make for an intense and challenging experience. This is a high intensity class that combines strength, creativity and raw self-expression, in the music and practice alike. Full on rap music (yep, there will be swears), twerks, and fun. Don't bring the kiddos to this one gang!
Temperature: 90°