Yoga Dave Ajamie (E-RYT 200 / YACEP)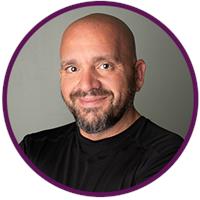 Dave Ajamie attended his first yoga class at while working at IBH in 2013. It was a perfect fit for him! He loves helping people on and off their mat, so much so, that he's affectionately been nicknamed "Yoga Dave."
My teaching style is: Peaceful and powerful. I love the inner peace and outer strength that your mat can bring you!
My favorite yoga pose is: Vrkasana (tree pose). With all its variations, it's a perfect combination of peace and strength.
Yoga has helped me overcome: The chaos of life. Coming to my mat always brings me back in harmony with what is good in life.
My favorite music to practice to is: Anything upbeat with positive energy!
My favorite sanskrit word is: Namaste, because it acknowledges the beauty in all of us.
You must try this healthy snack: Kale chips. They're good for you, but more importantly, they're delicious!
My advice for beginning yogis is: KNOW that every moment you are Trying to get better, YOU are Already getting better in Anything you do!
I'm most grateful for: Love of all forms. Connecting with other people and sharing love is life's purpose.
The most exotic place that I've practiced yoga is: On a standup paddleboard, it's a great experience!
If I could practice yoga with anyone, it would be: Tao Porchon Lynch! I have been honored to have accomplished this! She is absolutely amazing and an inspiration to us all!
I'm inspired to take my yoga to the next level: Every time I get on my mat. There's always something that inspires me from my mat.
My heroes are: Anyone who takes time and help people before anything else they had to do.
My one wish for the world is: That we would all just love one another and treat each other accordingly.
Yoga Dave Ajamie (E-RYT 200 / YACEP) instructs the following:
All the best of Power at a slightly cooler temperature than our normal Hot Power Flow classes. Experience is suggested. Expect to leave revitalized!

Temperature: Warm 78°-82°




Vinyasa, commonly referred to as a "flow" style, is a flowing, dynamic yoga practice that connects movement with breath. This moderately paced practice seamlessly blends one pose into another to create heat in the body, build strength, improve balance, and increase flexibility. While these classes are appropriate for all levels of practitioners, some experience is suggested.
Temperature: Warm Flow: 82°-86°