Pattie Wagner (E-RYT 200)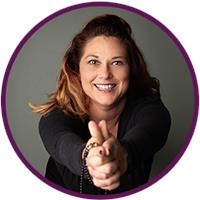 Pattie Wagner, E-RYT 200 and YACEP®, took yoga when she was four years old with her flower child mom. Yoga found her again when she had her second son and needed a release from a demanding career in a foreign city. Over 16 years, she has practiced a broad variety of yoga styles including Power, Bikram, Hatha, Ashtanga, Restorative, Yin, Iyengar and "crappy work yoga" and infused them all into her teaching style (minus the crappy parts, of course). She is E-RYT 200, Thai Massage Yoga and Reiki Level II certified and is the process of completing her RYT 500.
My teaching style is: Very hands on, fun, upbeat and spiritual. I love assisting my students, so be prepared for adjustments, neck rubs and guidance.
My favorite yoga pose is: Padahastasana! I love the release that Gorilla pose provides. It's a simple forward fold that is accessible to all levels of yogis. It also calms the mind, helps with digestion and improves circulation in your hands and wrists. It's great for people who work on computers all day long.
Yoga has helped me overcome: Wow, so much. I began practicing when my 2nd son was born to help with post-partum depression. From there, I fell in love! Anything is possible on a yoga mat.
My favorite music to practice to is: I love heavier music such as Florence & the Machine and the Black Keys for a power class. I get a lot of help from my sons who help keep my music cutting edge ... I love offering a brand new sound or unknown artist to my students, especially local CLE bands such as The Modern Electric.
I love my: Eyes and hair. My eyes are hazel and can turn to a beautiful complex green/gold. My hair? I rarely blow it dry and (WHEN) I bother to style it, looks AMAZING.
My favorite goddess is: Akhilandeshvari. She is the "The Always Broken Goddess". Basically, she celebrates that we are always just a little broken, a little on the edge. This allows us to try something new and unfathomable in our lives and break away from our toxic routines or attachments. And she rides on a crocodile … how cool is that?! There is a great article about her on Elephant Journal by JC Peters. Check it out!
You must try this healthy snack: Sprouted pumpkin seeds. I love their mealy texture.
My favorite Sanskrit phrase is: "Om Namah Shivaya". Chanting this mantra is incredibly powerful … be careful what you wish for!
My advice for beginning yogis: Focus on building the very basics of your practice. Your breath is everything and will guide you both physically and spiritually. Don't worry about how flexible or strong you are … and don't worry about the heat, Release has plenty of options!
I'm most grateful for: My wonderful family who supported me when I took on the major life change of starting my own yoga studio. I may be crazy, but I'm loved!
The most exotic place that I've practiced yoga is: Tahiti in my personal hut by the water. Wait, that hasn't happened yet!
If I could practice yoga with anyone, it would be: Adam Levine and Bradley Cooper. Brad (he lets me call him Brad) and I would practice at the back of the room and giggle at Adam showing off. But when Brad wasn't looking I would be completely gawking at Adam :-)
I want to take my yoga to the next level by: Assisting all of the fabulous Release teachers and students in reaching their full potential.
My heroes are: Anita Roddick (founder of The Body Shop), Maxine Clark (founder of Build a Bear) and Oprah (founder of everything). They each built profitable businesses from the core of their passions, took immense risks, and focused on giving back to their employees and communities. And they did it with kindness, compassion, fun and profitability. That's the way business should be!
My one wish for the world is: Be kind. Be grateful. Be forgiving.
Pattie Wagner (E-RYT 200) instructs the following:



Vinyasa, commonly referred to as a "flow" style, is a flowing, dynamic yoga practice that connects movement with breath. This moderately paced practice seamlessly blends one pose into another to create heat in the body, build strength, improve balance, and increase flexibility. While these classes are appropriate for all levels of practitioners, some experience is suggested.
Temperature: Warm Flow: 82°-86°




Sink a bit more deeply into your mat as our instructors take your restorative practice to a whole new level of ... ahh. Meditative music and chanting sounds accompanied by deep assisting and basic massage techniques. Space is limited to make sure everyone gets a lot of deep assisting luv so please pre-enroll!
Temperature: 76°




Bring on the heat! Aimed at testing the strength and endurance of both mind and body, our Hot Power yoga classes contain powerful sequencing, more advanced poses (modifications offered), and always the invitation to come find your edge. You will leave this class empowered and alive (and not to mention, a little sweaty)!
Temperature: 90°




Connect to both nature and yourself as we incorporate a yoga practice to balance and support the body, enhancing the ability to develop the technical skills of kayaking. We'll begin with a ~45 minute yoga stretch (in the grass!).

Don't own a kayak? No worries! You can reserve one with us courtesy of Killin It Kayaks who will provide all of the necessary gear. $35 for both yoga and all gear.

Have a kayak? Bring your own and pay for the workshop only at $19. Lifejackets required.

Launch location: "Old" State Park Launch Ramps at 4357 State Park Dr, Akron, OH 44319

12:30-1:15 | Yoga Warm Up
1:15-2:15 | Group Launch & Kayaking around PLX

No prior experience necessary and this workshop is suitable for age 10+. To reserve you spot, you must enroll and pay up to 36 hours in advance of the event. A minimum of 8 participants is required to hold the class.

In the event of bad weather, your purchase can be shifted to another Yoga & Kayak date. Sorry, no refunds on any yoga class purchases.