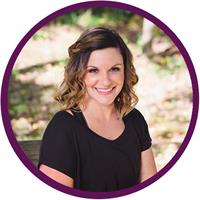 Tiffany originally came to her mat to help her overcome post-partum depression and anxiety - it worked, and so much more! Since then, she has found her individual identity and a deep passion to help others so she enrolled in teacher training and is now a RYT-200. Her favorite quote is "Don't take life too seriously, none of us get out alive" and strives to create a fun yet empowering environment for her students while they are on their mat so they can carry that with them when they leave.
My teaching style is: Fun, inspiring and empowering. I want my students to leave knowing they are enough and be proud of themselves.

My favorite yoga pose is: Half Moon. I always feel so open and strong in this pose!

Yoga has helped me overcome: My loss of self as well as depression and anxiety. Yoga has proved to me that I can still be Tiff as well as mom, wife, friend, etc. There is something so powerful about taking the time out for yourself!

I love my: FEET! What can I say? They carry me through life with strength but also sometimes trip me up to make sure I am paying attention!

My favorite Deity or god/goddess is: Ganesha! Remover of obstacles, patron of arts and sciences, what's not to love?

You must try this healthy snack: Apples dipped in peanut butter that has been mixed with cinnamon oil and granola

My favorite sanskrit word is: Ahimsa, nonviolence. I apply this to my life in so many ways. We must learn to be non-violent with others as well as ourselves. I believe this is the road we must travel to true contentment.

My advice for beginning yogis: Approach yoga with a light heart and an open mind. You will fall, you will step out of your comfort zone, but you will grow as yoga does it's work on you! Go with it and stay grateful in the journey!

I'm most grateful for: My family for their unwavering support and encouragement.
Most exotic place I've practiced: Cancun, Mexico

If I could practice yoga with anyone it would be: Bryan Kest (again!) He is such an inspiring person all around!

I am excited to take yoga to the next level because I am working towards completing my RYT-200 as well as discover pre-natal and post-natal yoga first hand and I cannot wait to share my knowledge!

My heroes are: First time yogis. You made it to your mat, and that is inspiring to me!

My one wish for the world is: To be kind to one another - you never know the other person's story.